Holidays in Dorf Tirol above Merano
Top excursions and countless exciting hiking destinations
South Tyrol is always worth a visit. The Schattmair Hof is happy to provide your accommodation in Dorf Tirol all year round. Visit us in spring when nature is awakening and the trees are blossoming – the best time of the year around here! When the orchards around our farm are in full bloom and exude an irresistibly sweet scent. In summer our farm is an excellent starting point for countless hikes and exciting excursions in Merano & surroundings area. The golden autumn in Dorf Tirol is the most colourful season of the year and, with the beginning of the Törggele season, also the most enjoyable. Moreover, Merano & surroundings is also a dream location for winter sports enthusiasts, whether you're into skiing, cross-country skiing, snowshoeing or sledging.
Hiking holidays with guest hikes in Dorf Tirol
We're always excited to take our guests on an epic hike in the beautiful mountains of South Tyrol – all year round. Once a week, the Pichler family organises an exciting excursion: savour the sweet fragrance of the apple orchards, explore rustic alpine huts and legendary mountain lakes and conquer bewildering mountain peaks!
Not far from our house, the Hochmuth cable car takes you from Dorf Tirol tothe Hochmuth (650 - 1400 m) in just 5 minutes. Here you'll be able to set off on countless hiking adventures while contemplating the breath-taking mountain landscape.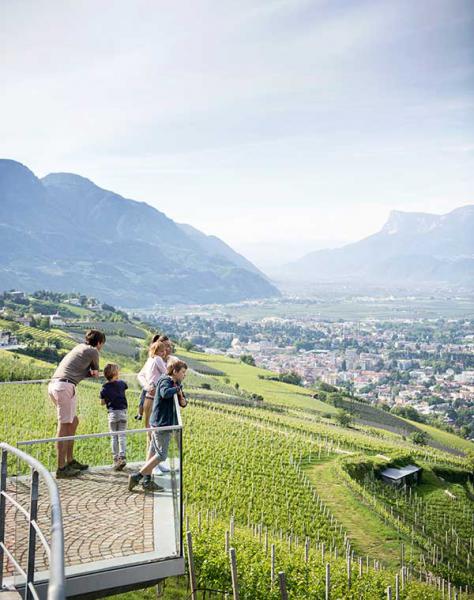 The most beautiful excursion destinations around Dorf Tirol
One of the most popular excursion destinations in the Dorf Tirol area is perhaps Tirol castle with the bird care center, which is about a 30 minutes walk away from our farm.


Another popular destination for families is the Agriculture Museum at the Brunnenburg, which hosts a zoo with rare domestic animals (approx. 25 minutes walk).


Enjoy breath-taking panoramic views from one of the countless promenades and themed trails like the Apple and Wine Trail, the Falconer's Promenade and the Tappeinerweg trail.


The nearby Burglehenpark is an exciting experience for the whole family. With its comfortable benches, the playground and large flower meadow, it invites visitors to linger and play.
Recreation time and & action in Dorf Tirol
As our regular guests know, Dorf Tirol has a lot to offer. Whether you're up for an exciting tennis match on the tennis court in Dorf Tirol, an action-packed beachvolley shootout or a round of mini golf with the family. If you're in for strong emotions, you can quench your thirst for adrenaline with a paraglide flight from the Hochmuth with the Adlerhorst Flight Club or a canoe or rafting tour on the Passer and Etsch rivers.
While on holiday in Dorf Tirol, take time for exciting and beautiful things, spend unforgettable moments with your loved ones and create unique and sweet memories.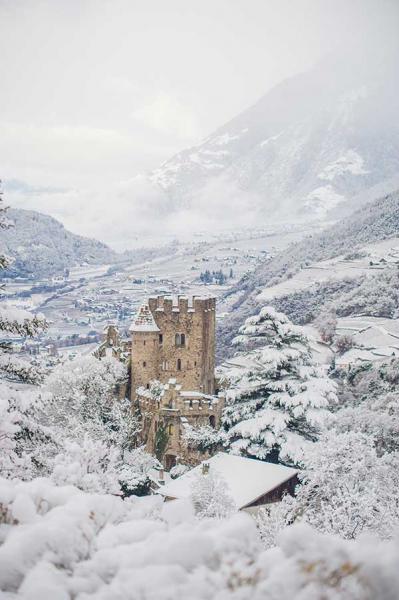 Experience Dorf Tirol in winter
In the run-up to Christmas, experience the magic atmosphere of the South Tyrolean Christmas markets and enjoy sweet Christmas melodies while warming up with a hot mug of mulled wine.
Spend a contemplative Advent season in Dorf Tirol. We recommend visiting the famous Tyrolean Castle Advent, where you can experience and savour the historical ambience of Castle Tyrol. The market revolves around regional craftsmanship and quality products that distinguish South Tyrol from the rest of the World. Christmas concerts create a contemplative pre-Christmas atmosphere.
Our holiday apartments can be booked throughout the Advent season, at Christmas and on New Year's Eve.

If you're into winter sports, Dorf Tirol won't disappoint you either. The following ski Resorts are just around the corner from us:
- Merano 2000 (about 7 km)
- Pfelders (about 37 km)
- Ultental (about 39 km)